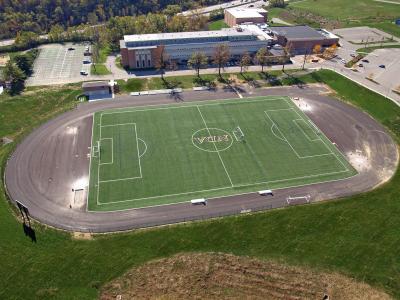 The story of Notre Dame Academy's ("NDA") "Field of Dreams" is unique. NDA is an all girls' high school that is 100 years old. Until the new field opened last year, at no time in NDA's history did it have an athletic field. The lack of a field caused significant issues for every administrator, coach, parent and student involved in outdoor sports. Literally, for decades, the coaches had to find facilities for every practice. Over the years NDA teams practiced on many abandoned fields and empty playgrounds. To make some of these fields usable and safe, dedicated parents and coaches removed rocks and debris, cut grass and brought in truck loads of dirt to fill holes and smooth bumps. When NDA's teams were "lucky", they received permission to squeeze-in practice time at other schools after the home school had finished using its facilities. Of course, this also meant that coaches, parents and athletes students had to travel for all practices. In fact, at one point, the only available practice facilities were at a school in neighboring state. Obviously, this also meant that in the entire 100 year history of NDA, it did not have a true home game. The only home games were at rented or borrowed facilities. The other major issue was limitation on participation. Nationally the number of women participating in athletics has exploded. Correspondingly, there was high interest in expanding the number of sports and athletes at NDA. However, it was impossible to even consider adding sports and opportunities without a place to practice and play. This was a shame. Dozens of studies document the numerous psychological, physiological and sociological benefits of sports participation for girls.
Simply put, involvement in athletics significantly enhances the chances that young women stay out of trouble, do well in school, remain healthy and become leaders. A few years ago the Sisters of Notre Dame graciously donated property to NDA to build an athletic field. The opportunity to finally have a home field was wonderful. However, in order to provide for all of the practices and games for existing teams, and to develop new teams and opportunities for young women, there was only one answer for NDA – the new field had to have synthetic turf to accommodate all of NDA's needs.
The impact of the NDA's synthetic turf field was immediate. Within days after the field was complete, NDA's soccer team was using the field for practice. After decades of begging for practice time at other schools, cleaning up trash and rocks off a field before practice and handing out directions to parents so that they could find the practice field, NDA could finally simply say, "practice today after school". More significantly, the synthetic turf field immediately opened the door to participation for dozens of young women and expanded playing time in the community. As soon as the field was complete, NDA organized a new lacrosse team for its students. This has been a huge success in terms of the number of girls participating. Also NDA has invited youth teams in the area to use its synthetic turf field when other facilities are not available. This has been a welcome addition to the community and tremendous benefit to the young athletes in the area. In addition, the field is a very attractive addition to NDA's campus. Before the field was installed there was an overgrown gully in front of the school. Now one of the first things someone sees as they come to NDA is a beautiful, sparking green field. Moreover, the campus is alive after school every day as dozens of players, parents and coaches come and go for practice. Also "game days" are truly special events for hundreds of alums, fans and families. After 100 years of not having a home field, it is probably impossible to overstate the good will, pride and school spirit generated by NDA's new synthetic turf field.
The Motz Group installed NDA's 24/7® synthetic turf field in 2009. For more information on The Motz Group or any of our proven turf systems, contact Zach Burns at 513.533.6452 or info@themotzgroup.com
Content written by Erin Richards of the Motz Group of Companies, Inc.

For more information about the Synthetic Turf Council's Field of Dreams Contest visit